Repairs.
At Oakenhurst, we pride ourselves on providing a quality service you can rely on whilst supporting a diverse range of products and constantly adding to our capabilities to accommodate the needs of our clients.
repairs
AUTO FLIGHT &
AVIONICS DIVISION
ATA 22 | ATA 31 | ATA 34 | ATA 35
This Division is embedded within our Cleanroom, equipped with its own air-filtration system to maintain optimal atmospheric conditions. The Division offers Test, Repair and Overhaul to a diverse range of precision avionic instrumentation, oxygen masks, and stowage equipment.
Due to our emphasis on quality, the specialist environment and the highly skilled resources we offer, Oakenhurst has obtained contracts supporting OEM's who demand the highest standards and establish long lasting relationships that benefit both parties.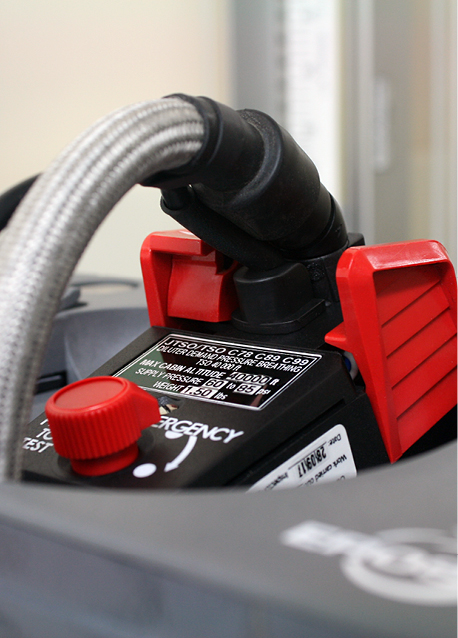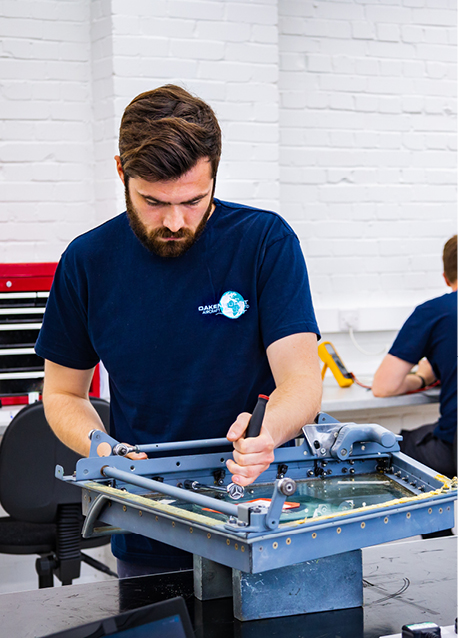 repairs
FLIGHT POWER & ELECTRO-MECHANICS DIVISION
ATA 24 | ATA 25 | ATA 26 | ATA 28 | ATA 33 | ATA 56
Designed with versatility in mind, this Division is built to support a wide range of aircraft components, such as windows, power supplies, smoke detectors, exterior lighting, rotary actuators, generators and more. Providing our clients access to a large capability list across varying aircraft types.
With a 60KW variable generator drive unit, we can facilitate heavy AC/DC supplies for the testing of electrical/electronic aircraft components. Our DV Window framing team provide full inspection, repair, modification and overhaul to commercial cabin and flight deck DV windows to ensure the entire process is carried out to the highest quality.
repairs
GALLEY ACCESSORY DIVISION
ATA 25 | ATA 38
Our purpose built Galley Accessory Division provides Inspection, Repair, Modification and Overhaul support on a wide range of galley equipment.
This is a rapidly growing area of importance to airlines, both new and legacy fleet based, products such as water boilers, coffee makers, water heaters, and ovens all require regular maintenance, we have capabilities on these units and more to ensure your equipment can get back to work quickly. Our Galley Division is one of the easiest places to see evidence of our sharp focus on quality and reliability.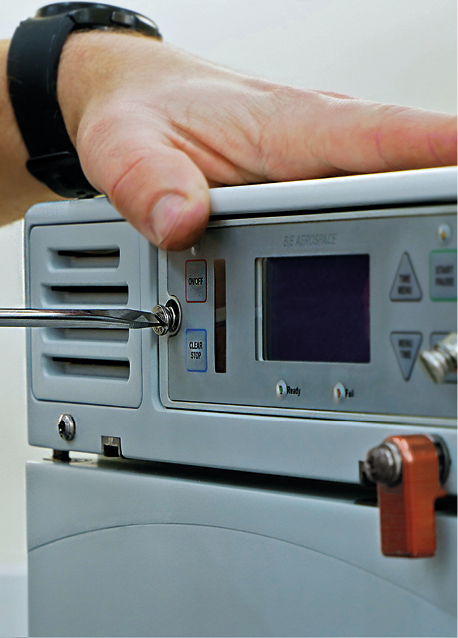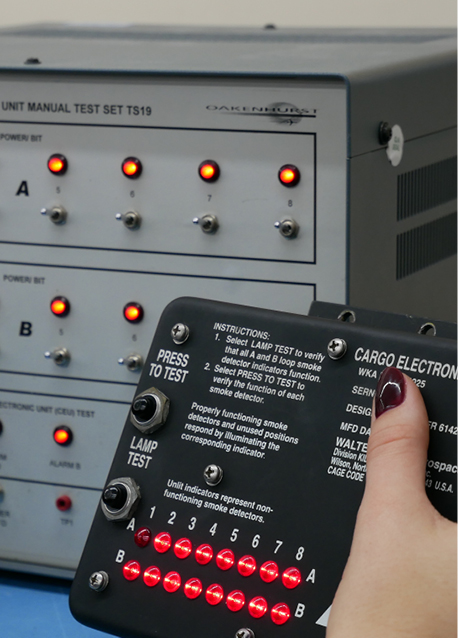 repairs
INTERIORS, COMMUNICATIONS & NAVIGATION DIVISION
ATA 23 | ATA 25 | ATA 31 | ATA 33 | ATA 34
Our skilled Technical Support Team combined with high precision test equipment allows us to offer servicing to multiple product types.
These range from emergency equipment including Automated External Defibrillators (AED's) and Megaphones to interior products and flight deck LRU's such as Lighting Ballasts, PA Drop-down Screens, In-flight Entertainment, Control Panels and Primary/Standby Indicators.
Effective communication is vital for the smooth running of air to ground control systems as well as the cabin environment. When paired with well-maintained passenger address and entertainment systems, it instils customer confidence. So we ensure we can support your communication needs to increase your customer satisfaction and overall safety.
Our expansive capabilities also encompass radio and radar capabilities, offering Test, Repair and Overhaul support for your navigation needs.
repairs
CARGO ACCESSORY DIVISION
ATA 25
Cargo nets are noted as being one of the most commonly damaged pieces of aviation equipment.
Cargo nets are a safety critical component and aircraft require them to be in an airworthy condition, exactly the same as all other components on board. With this in mind, Oakenhurst's Cargo Accessory Division is equipped and ready to inspect and repair any nets to the high standard we have a reputation for. The need to discard and replace with new is no longer the only option for aircraft operators. We can repair them and allow aircraft operators the choice to return their nets to the necessary airworthy condition. All repairs are carried out to the manufacturer's specifications with complete understanding and to established procedures.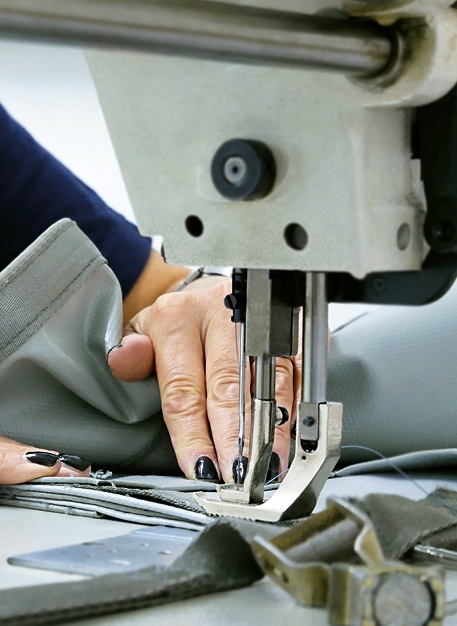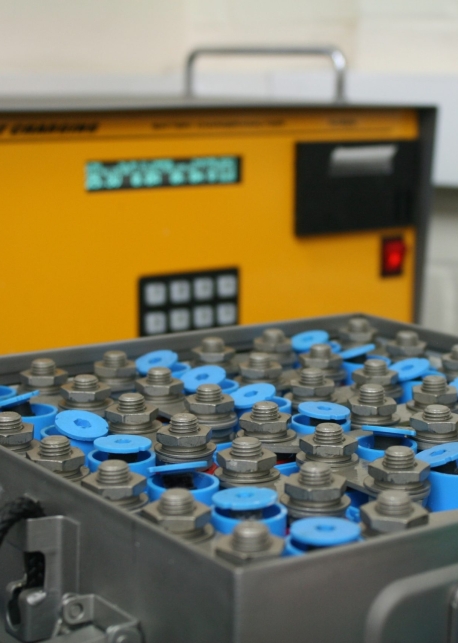 repairs
NICAD BATTERY DIVISION
ATA 24
The Battery Division is built to be a diverse and flexible workspace, with room to grow to ensure we can meet demand without adversely affecting our high quality results and fast turnaround times.
With regular care and maintenance, Nickel-Cadmium batteries (NiCads) can provide years of trouble-free service. Our experienced engineers ensure they receive quality care, providing test, repair & overhaul services. Caring for your units from arrival to dispatch.
We support a diverse range of aircraft batteries for varied applications. With a number of charging stations within the Division, we are able to service a high quantity of batteries simultaneously.
repairs
AUDIO DIVISION
ATA 23
From the flight deck and cabin to ground support communications, it is imperative that your audio equipment is trustworthy and reliable.
To ensure this, our skilled workforce within the dedicated Audio Division work only to the highest standards. Along with OEM test equipment and training directly from the manufacturer this is fulfilled on a daily basis. Whether analogue or digital, we are able to support your needs on a huge range of headsets, handsets and hand-held microphones.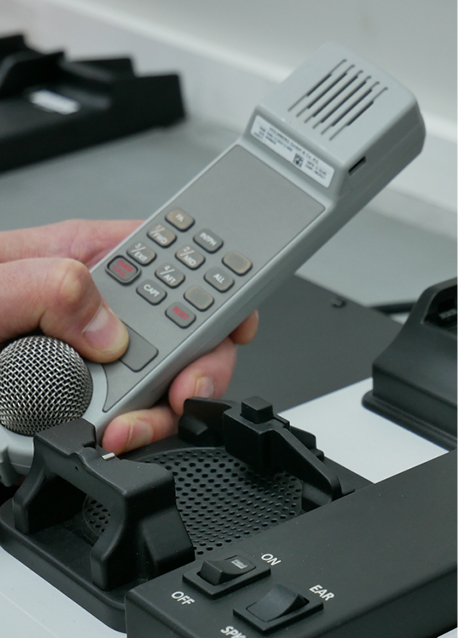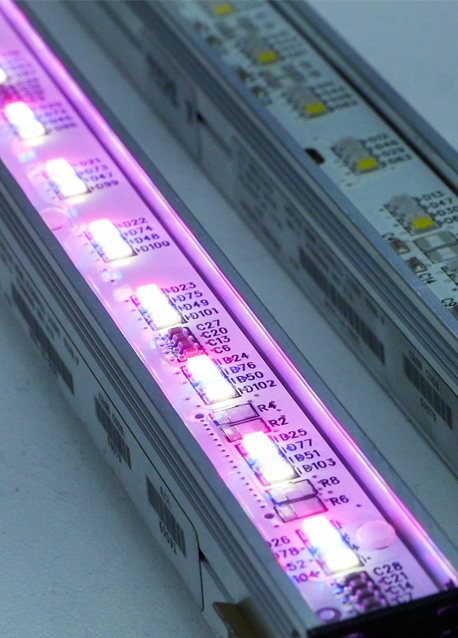 repairs
INTERIOR LIGHTING DIVISION
ATA 23
Interior lighting is an essential part of creating customer satisfaction, enhancing passengers overall experience and ensuring safety on-board. By fault finding through inspection and testing, we ensure that your lighting equipment leaves our facilities ready to be re-installed into aircraft.
Delivering on-board safety protocols relies on effective, operational interior lighting, making it a vital part in delivering effective safety procedures such as emergency exit lighting and floor lighting.
repairs
Ground Equipment
Support Division
Our highly skilled and dedicated team operates within our Division to calibrate complex critical equipment for the teams on the ground, allowing them to ensure aircraft and passenger safety.
This well-equipped and versatile Division allows us to support a range of civilian, commercial and military aircraft types.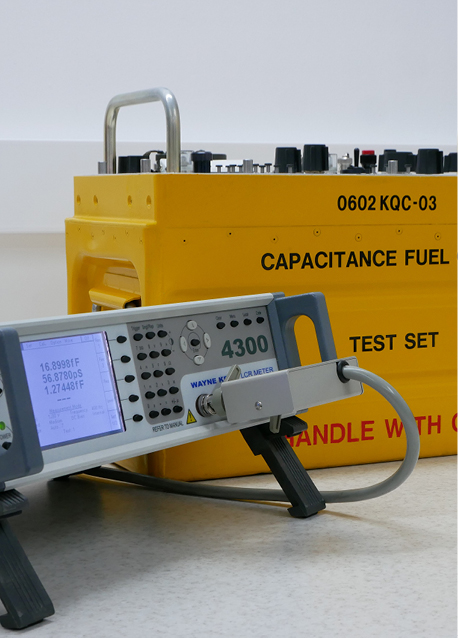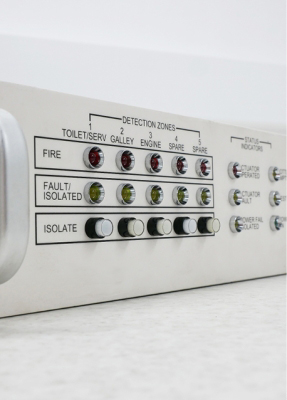 repairs
Rail support Division
Our Rail Support Division provides quality and reliable repairs on safety critical equipment, assisting in ensuring safety on-board.
This new and ambitious Division is purpose-built to accommodate for its expanding capability and provide the high standard of service we have a reputation for, despite it sitting outside the aviation industry.